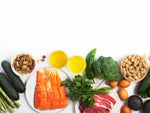 Dr. Jonny Bowden gives us the download on the latest buzzwords making their way through health circles.
Q: I'm hearing a lot about "dirty" vs "clean" keto. What gives?
As you probably know, ketogenic diets are about getting your body into a state called nutritional ketosis, where your body is producing measurable amounts of ketones, a great source of fuel for the muscles and brain. This is accomplished by eating minimal amounts of carbs and front-loading the diet with healthy fats, a strategy designed to keep blood sugar from rising too high and too frequently.
So far, so good.
Thing is, gasoline probably doesn't raise blood sugar at all, but that doesn't mean you'd want to drink it. You can front-load a keto diet with junk fats (like trans fats and vegetable oils) and with processed deli meats like salami, and you'll probably still get into ketosis. But you certainly won't be eating healthy.
And that is what's meant by "dirty keto." Dirty keto is about getting into ketosis without caring how you get there. Obviously, I don't recommend that. Meanwhile, "clean keto" is exactly what it sounds like – a mashup of clean eating and the ketogenic diet that's also eminently doable. A clean keto diet is heavy on plants, fish, olive oil, nuts and seeds and other whole foods.
Written by Jonny Bowden PhD Cns for Clean Eating Magazine and legally licensed through the Matcha publisher network. Please direct all licensing questions to legal@getmatcha.com.