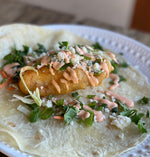 This golden brown fish taco is insanely delicious. You can sub out some ingredients to accommodate your health level...or just make as is for a special treat :)
This recipe would be delicious with our Lemon Pepper, Spicy, or Original Nut Crumbs ~ a nut-based bread crumb alternative. They are gluten-free, paleo, Keto-friendly, vegan, and delicious! To purchase a bag click here.
Ingredients: Makes about 8 tacos
Ingredients:
For the fried fish...
1 c. flour (sub almond flour)
1 12 oz. can of beer (we used IPA, sub with club soda or sparkling water)
1/2 c. Nut Crumbs (Lemon Pepper, Original, or Spicy are all delicious)
1 lb. cod
Canola oil (sub olive oil) for frying
For the toppings...
1/2 c. shredded cabbage
1 avocado
1/4 c. mayonnaise
1 T. Tapatio
2 limes
1/2 c. cilantro chopped
1/2 c. cotija cheese crumbled
1/4 jalapeño (optional)
8 tortillas (we prefer corn or Siete Almond flour tortillas. )
The fish cooks pretty quick in this dish, so we prefer to do all the prep work before hand, leaving the frying of the fish as the last step.
Whisk together mayo and Tapatio in a small bowl, slice the lime wedges, avocado, and jalapeño. Crumble the cheese and set up a toppings station for the tacos.
Warm up the tortillas in a hot pan with a little slab of butter or some avocado spray. Wrap in foil to keep them warm.
We used cod for this dish, which was absolutely delicious. Quite frankly, just about any white fish would be yummy prepared this way :)
Start by slicing your fish in appropriate fish taco size (about 1 in x 3 in depending the size of your tortilla). 
In a medium bowl, whisk together flour, Nut Crumbs, and beer. We used an IPA, but a dark Mexican beer would be yummy. You can also use a gluten free beer. If you don't want to use beer, you can also use anything carbonated...like sparkling water or club soda :) If you have the time, let sit in the refrigerator for 10-20 min and let the bubbles do their thing.
Pour enough oil in a large cast iron skillet to fully cover the fish. You can cook in batches, so this will depend on the size of your skillet. Heat up oil to a med high heat (about 350 degrees).
Once the oil is at the right temp, place each fully coated piece of fish in it. Cook for about 2 minutes on each side, or until golden brown.
Remove the fish from the skillet and place on a slotted metal sheet to let the oil drain off.  We topped ours with slices of avocado, cilantro, cabbage, and a drizzle of that yummy Tapatio Mayo. Finish off with a fresh lime squeeze and try not to eat them all!