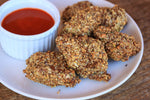 Oh My Goodness...these are YUMMY! It's like eating Cool Ranch flavored chicken nuggets...but without all the junk!
This recipe was made with our Ranch Nut Crumbs ~ a nut-based bread crumb alternative. They are gluten-free, paleo, Keto-friendly, vegan, and delicious! To purchase a bag click here.
Ingredients:
2 chicken breasts
1/4 c. buttermilk (you can use almond milk or regular milk as well)
1 egg
1/2 c. Ranch Nut Crumbs
buffalo sauce for dipping :)
Start out by dicing your chicken breasts into nugget size. Normally we recommend pounding out the chicken, but since we are cutting them up, there is no need to.
Whisk together buttermilk and egg in a small bowl. Almond milk works fantastic in this recipe also. The buttermilk just makes it extra special :)
Pour Ranch Nut Crumbs out on a plate.
Dunk the chicken nuggets into the egg wash then dredge in the Nut Crumbs.
Pop in an air fryer at 360 degrees for 8-10 minutes. If you don't have an air fryer you can fry in olive oil and butter or bake at 350 degrees for 10 minutes.
Here is a picture of how juicy the chicken comes out in the air fryer.
Plate with your favorite dipping sauce and enjoy!