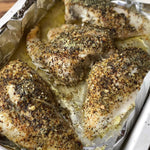 This yummy chicken dish is decadent. It also requires a bit of time (the chicken needs to brine) and a few special ingredients...like Maple Syrup + Truffle Mayo. It's the perfect winter dish and pairs with just about any comfort side dish. It was also inspired by Chef Michael Voltaggio's full bird recipe.
Ingredients
For starters...you need to brine the chicken for 4-6 hours. Here's what you do for the brine...
1/2 gallon water
3/4 c. kosher salt
1/2 c. maple syrup (we sell this version at Appel Foods Mercantile)
1T chili flakes
1T mustard powder (linked here)
1T coriander seeds
1T black pepper
1 full garlic head sliced in half
1/4 c. soy sauce (We love this small batch brand here)
Combine all ingredients together in a large pot and bring to a boil. Let cool fully. Once cooled place chicken thighs (you can do breasts if you'd prefer) into brine and let sit for 4-6 hour in the fridge.
For the chicken...
1 c. Original Nut Crumbs (Spicy would be yummy too!)
4 boneless skinless chicken thighs (you can use breasts if you'd like)
1/2 c. Truffle Mayo (spicy or plain)
4T. butter
Preheat oven to 400 degrees.
Take chicken out of brine and rinse with water. Place chicken in baking dish and cover with mayo using a spatula. Sprinkle on Nut Crumbs (generously). You can also hold chicken with tongs and dip (mayo side down) in a plate of Nut Crumbs to get a nice thick coat on them. You only need to coat one side of the chicken for this recipe.
Once back in dish Nut Crumbs side up, place 1T butter on each piece of chicken.
Place baking dish in preheated oven and let cook for 15-20 minutes (depending on thickness of chicken)
Serve over mashed potatoes, rice, or alongside fresh veggies and enjoy!