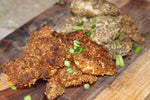 Ingredients:
| | |
| --- | --- |
| 1 c. Italian Nut Crumbs |   |
| ¼ c. almond milk |   |
| 2 eggs | ¼ c. extra virgin olive oil |
| 4 chicken breasts (thighs, or 8 tenders) | 2 T. butter |
Start by using your favorite cut of chicken, trim, and pound with meat tenderizer until desired thickness. Chicken thighs are our favorite for this recipe, but some people like to stick with white meat and we totally get it! 
Whisk eggs and almond milk (or regular milk) together in large bowl. Place chicken in the egg mixture. Pour out Nut Crumbs on a plate…dredge the chicken until thoroughly coated. 
Preheat the oven to 350 degrees.
In a skillet add the EVOO and grass-fed butter. Heat to medium/hot temp and add chicken. Cook 2-3 minutes on one side and flip, cooking for an additional 2-3 minutes. Remove from pan and place on baking sheet. Place in hot oven for 15 minutes or until chicken is cooked through.
Serve with your favorite side dish and enjoy!
A great idea is to make a bunch of chicken tenders on a weekend, so that you have them all week to add and heat up. It's a GREAT menu item for the kiddos too :)