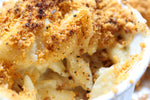 Now that it's finally cooling off, we can't help but crave comfort foods. Here's my disclaimer. This recipe is not Whole30, Paleo, Vegan, or even remotely healthy for that matter. This Spicy mac n cheese is, however, one of the most delicious things we've eaten in a long time. So if you are looking to be the hero of the next dinner party or potluck you attend, you MUST make this.
Ingredients:
1 box pasta (shells)
1 stick of butter
2 c. whole milk
1 c. Cheddar Cheese (grated)
1 c. Pepper Jack Cheese (grated)
1/2 c. Parmesan Cheese (grated)
4 T. flour
1/2 t. salt 
1/2 t. pepper
1/4 c. Spicy Nut Crumbs (Italian are delicious on this as well)
Start by preheating your over to 350 degrees. While this is heating, bring a large pot of water (heavily salted) to boil. Add the pasta to the boiling water, and take out and strain when al dente. 
While the pasta is cooking get a large sauce pan and melt the butter. Once the butter is melted, add the flour and stir constantly, until the mixture is lightly browned, 1-2 minutes. 
Add the milk to the mixture and whisk to remove any lumps from the flour. Add salt and pepper to the mix, and cook over medium heat until the sauce starts to thicken and bubble....about 5 minutes.
Add all of your cheese to the mixture and stir until cheese is melted. You may use a mix of whatever your favorite cheeses are. I like to add parmesan, because it gives a different flavor to the mac n cheese, but it's totally up to you!
Once the cheese is incorporated, add the pasta and stir it in until completely covered in the ooey, gooey cheese. Transfer to a making dish and cover in Spicy Nut Crumbs. Place dish in the over for 15-20 minutes then serve.
If you really want to impress your company, place the mac n cheese in individual baking dishes, so they each have their own special serving size. 
You might regret ever having made this dish, but then again, who cares. Enjoy.