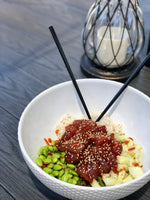 Our Ahi Tuna Poke Bowl recipe dusted with Original Nut Crumbs is the perfect light summer dinner. The hardest part will be finding the sushi grade fish :)
Ingredients:
1/4 lb. sushi grade ahi tuna
1 T. sesami seeds
1/2 c. edamame beans
1 cucumber
1/2 c. arugula
1/8 c. mint leaves
1/2 c. romaine lettuce
2T. soy sauce
1 T. sriracha
1 t. ginger
1 c. noodles, rice, or any type of "miracle noodle"
1/2 lime
2 servings
Disclaimer: You can add anything else to this bowl that your heat desires :)
So for this recipe...we're basically going to chop all the ingredients and layer them in a bowl.
To start...chop up the ahi tuna into cubes and throw in a bowl. Add 2 T. of soy sauce, juice of half a lime, and grate ginger into bowl of tuna and stir. Let sit while building the rest of the bowl.
Chop up romaine, arugula, mint, and cucumber and add to bottom of the bowl.
Cook up edamame and take out of pods. Place beans in corner of bowl.
Cook noodles, or rinse "miracle noodles" and place in corner of bowl.
Place marinated ahi on top of bowl and garnish with sriracha sauce, Original Nut Crumbs and sesame seeds.
Stir around before eating and enjoy :)