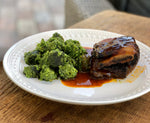 This delight is comfort food meets end of summer cooking. It's delicious, healthy(ish), and feeds your soul.
Ingredients:
Ribs...
3-4 beef short ribs (bone-in)
3 T balsamic vinegar
small can of chipotle adobe peppers 
2 T unsalted butter
kale gnocchi (from Trader Joe's) *If you don't have this, any pasta would be absolutely delicious :)
Pesto sauce..
This pesto is a recipe from Paleo Running Mama We subbed out the nutritional yeast for Italian Nut Crumbs :)
To start this recipe...you're going to need to grab your crock pot. Doesn't every comfort dish start with a crock pot?
This first step needs to be done 6 hours a head of serving time :)
Heavily salt the short ribs and place them in the crock pot fat side up. Drizzle with balsamic vinegar, cover in chipotle adobe peppers, and add a pad of butter to each piece. Pour about 1/4 c. water in the bottom of the crock pot. Cook on low for about 6 hours.
For the pesto...literally throw all the ingredients into a food processor and blend until smooth. 
If you are making the kale gnocchi, follow the instructions on the packaging and then coat with the pesto sauce at the end. If you are using regular pasta (or spaghetti squash) cook through and then coat with the pesto sauce at the end.
Once short ribs are cooked through, remove all the peppers from the juice (they are VERY spicy) and pour all the liquid into a sauce pan. Boil the sauce for about 3-5 minutes to let the sauce reduce. Add a pinch of salt. Once reduced, add 2 T of cold butter in chunks to the sauce and whisk rapidly, removing the pan from heat. Serve immediately over short ribs and enjoy!