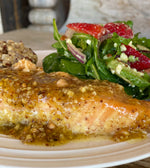 If you are looking for a decadent seafood dinner you MUST try this delicious family recipe. This exact dish inspired the flavor profile of our Original Nut Crumbs. They also make this meal gluten free and low carb...but you wouldn't know it because it's that good.
This recipe was made with our Original Nut Crumbs ~ a nut-based bread crumb alternative. They are gluten-free, paleo, Keto-friendly, vegan, and delicious! To purchase a bag click here.
Ingredients:
1 c. Original Nut Crumbs
1-1.5 lbs salmon
1 stick butter
1/2 c. maple syrup
1 t. salt
Let's start with the salmon. We always love to source the best local ingredients (when possible) especially when it comes to seafood. Our local fish market, Catalina Offshore Products, in San Diego, CA, had some fresh California King Salmon literally delivered off the boat and we just about died at how beautiful it was. This was the perfect salmon needed to make one of our favorite summer salmon dishes. If you live in San Diego, check them out! If you don't...ask your local market what's fresh and base your recipes on what's there instead of the other way around.
Ok...now on to the easiest, savory, a little sweet, gooey, yummy dish that will impress any dinner guest you might have.
In a small saucepan on med heat, melt the stick of butter. 
Once fully melted, add the Original Nut Crumbs, salt, and maple syrup. Cook down for about 3 minutes.
Place the salmon (skin removed or down...the skin will just get soggy in this recipe, so it's best to remove it) in a baking dish or cast iron skillet, sprinkle with a bit of salt, and smother it with the maple syrup, butter mixture.
Bake at 350 degrees for approximately 25 minutes.
Serve over rice, or cauliflower rice (or puree), and a big salad and dinner is served!