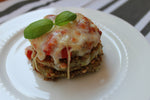 Feeling slightly indulgent? This recipe is sure to satisfy your craving for a savory Italian meal, without the carbs!
Let's start with your grocery list...
Ingredients
Italian Nut Crumbs
Eggplant
Eggs
Almond milk (or whole milk)
Marinara sauce (whichever kind you fancy!)
Parmigiana cheese
Mozzarella cheese
Fresh basil
Extra Virgin Olive Oil
Kosher Salt


To start off this fabulous dish, you will want to peel and slice your eggplant. Some people prefer to leave the skin on the eggplant, which is totally fine, its up to you! Sometimes the skin can get chewy, which is why we choose to peel it off.
Once your eggplant is sliced, you will want to lay out all your slices and salt heavily. Salting the raw eggplant draws out some liquid and (apparently) bitterness. Some think this step is a wives tale. You may forgo if you wish. Google it. Decide if you believe in the folklore and comment below!
Let the salted eggplant sit for a half an hour. Rinse thoroughly and pat dry.
In a small bowl, whisk together about 3 eggs and a splash of almond milk. Place your Italian Nut Crumbs in a bowl or plate. Drench each slice of eggplant in the egg mixture then coat with Nut Crumbs on both sides. 
Add about a cup of the extra virgin olive oil to a skillet. If you're really going for it, add some butter to the skillet as well. Why not. This recipe is under the indulgent section right? Heat up your oil on med/high for a couple minutes until oil starts slightly sizzling. 
*Do not add the eggplant to unheated oil, it will absorb too much oil and the end product will be greasy.
Start adding your eggplant slices to the pan and let them sizzle a few minutes on each side. Be sure to be monitoring the oil temperature, and don't let it get too hot...we don't want you burning your Nut Crumbs!
After both sides of the eggplant slices are browned, remove them from the pan and place on a paper towel or cooling rack. Repeat until all your eggplant is golden brown!
Pick your favorite baking dish, and lay each slice of eggplant flat, topping with marinara.
Continue to layer the eggplant and sauce until the dish is full.
Add your cheese...as much as you'd like!
Stick this beautiful masterpiece in a 350 degrees oven for about 20 minutes and enjoy!