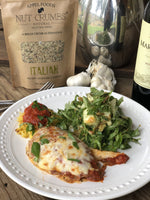 Looking for an EASY weeknight meal that is also the ultimate comfort food? Oh did we mention it's also gluten-free and keto friendly? This lazy chicken parm is the answer. This recipe was made with our Italian Nut Crumbs ~ a nut-based bread crumb alternative. They are gluten-free, paleo, Keto-friendly, vegan, and delicious! To purchase a bag click here.
Ingredients:
4 boneless, skinless chicken breasts (we like them pounded very thin)
1/2 c. Italian Nut Crumbs
2 T. olive oil
1 c. parmesan cheese (shredded)
1 c. mozzarella cheese (shredded or in medallions)
1 medium spaghetti squash
2 c. marinara sauce
First...preheat your oven to 400 degrees. Cut the spaghetti squash in half length wise, scoop out the seeds, and place inside side down on baking sheet. This will have to cook for 30-40 minutes depending on the size of the squash, so put in oven while prepping the chicken. You can glaze with olive oil and add salt and pepper, but we find the squash gets too oily when we do that, so we just like to bake it plain and season later.
This will be the easiest chicken parm you've ever made. Ready?
Place raw chicken breasts in a baking dish (side by side) and salt and pepper them. Drizzle with olive oil, cover in Italian Nut Crumbs (generously), and throw in the oven for 20 minutes. We like to add a few chunks of butter on top of the Nut Crumbs, but you don't have to if you don't want to! After the twenty minutes, take the chicken out of the oven, cover in marinara, parm, and mozzarella cheese and throw back in the oven for another 10-15 minutes. At the end, turn on the broiler for a few minutes to brown the cheese and you are done!
Serve with spaghetti squash and a side salad and enjoy!