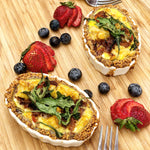 It was a Sunday morning and brunch seemed to be top of mind. All of the sudden the idea for a Spicy Nut Crumbs crust popped into my head and I thought oh yum....would that be delicious! The best part about this quiche is that it's super customizable to WHATEVER you have in the fridge! The three MUST HAVE ingredients are Nut Crumbs (Italian, Spicy, or Original would each be perfect in their own right,) butter, and eggs. The rest is really totally up to you, but here's what we did!
To start, figure out how many you are going to make and in what form. This would work well in a pie dish for a big group or individual ramekins to make it fun and fancy. We used little ramekins and made a portion for two people. Feel free to double or quadruple as needed!
We melted about 3T of butter in the microwave. Once melted, combine in a large bowl with 1/2 c. of Nut Crumbs using a fork until the crumbs stick together. If you want a firm crust, add some egg white to mixture as well (about 1T.) 
Fork out the crumbs into the pie plate or ramekin and press down using your fingers until the bottom and sides are fully lined about 1/8 of an inch thick all the way around.
Now here comes the fun part! Fill with your favorite fillings. We filled ours with some leftover pulled pork, corn casserole, diced tomatoes and fresh arugala. Some other great fillers would be asparagus, bacon, sausage, cheese, onion, potatoes, etc.
Once the fillers are in, whisk together eggs until nice and fluffy. Pour into ramekin leaving just a little space between the top of the eggs and the edge of the Nut Crumbs crust. Place in a 350 degrees oven until eggs are cooked all the way through. For our two ramekins that took 22 minutes.
Grab a Mimosa, fork, and dig in :)