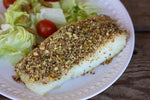 Halibut + Lemon Pepper equals seafood heaven. Adding really good olive oil just makes the dish insane! This might also be the shortest ingredient list of any recipe we've posted :)
This recipe was made with our Lemon Pepper Nut Crumbs ~ a nut-based bread crumb alternative. They are gluten-free, paleo, Keto-friendly, vegan, and delicious! To purchase a bag click here.
Ingredients:
2 halibut filets
2 T. really good olive oil 
1/4 c. Lemon Pepper Nut Crumbs
We got the most beautiful halibut filets from Catalina Offshore Products here in San Diego. We just LOVE local fish markets. Halibut is one of those fishes where the quality is important. 
All you have to do is place the halibut filets on a baking sheet, lined with parchment paper. Drizzle each piece with olive oil. We highly recommend Pasolivo Lemon Olive Oil which you can find here. Sprinkle Lemon Pepper Nut Crumbs generously over the fish and bake in a 350 degrees oven for about 15-20 minutes, depending on the size of the fish.
Serve over a salad or with a nice veggie side and enjoy!