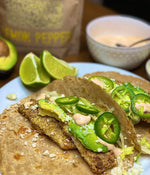 This delicious air fried crunchy, citrus taco will make you wish it was Taco Tuesday every night!
This recipe was made with a beautiful piece of halibut from Catalina Offshore Products and our amazing Lemon Pepper Nut Crumbs. They are gluten-free, paleo, Keto-friendly, vegan, and delicious! To purchase a bag click here.
Ingredients: Makes about 6 tacos
1/2 c.
Lemon Pepper Nut Crumbs 
1 lb. white fish (cod or halibut are a great choice!)
1/2 c. almond milk
1 egg
1/2 c. shredded cabbage
1 avocado
1/2 c. mayonaise
1 T. Tapatio
1 lime
1/4 jalapeño (optional)
1/2 c. cotija cheese 
6 tortillas (we prefer corn or Siete Almond flour tortillas. )
We are all about using the BEST ingredients which is why we partnered with Cataline Offshore Products to make this dish. They are a local fish market in San Diego who offers fresh seafood daily and also happens to carry our crumbs! 
Start by cleaning your fish and slicing in appropriate fish taco size (about 1in x 3in depending the size of your tortilla). 
In a small bowl, whisk together almond milk and egg. Pour out the Lemon Pepper Nut Crumbs on a plate.
Dip the fish in the egg wash and then fully coat in the crumbs.
Using an air fryer, spray the bottom of the bucket with some type of oil. We prefer avocado oil. 
Place fish in the air fryer and cook on the fish setting (400 degrees) for about 10-12 minutes. 
While the fish is cooking...whisk together mayo, Tapatio, and a squeeze of lime in a small bowl. Assemble the other garnishes and place in bowls for a toppings bar! Slice the lime wedges, avocado, jalapeños, and crumble the cotja cheese. 
Warm up the tortillas in a hot pan with a little slab of butter or some more avocado spray.
Remove the fish from the air fryer and start building your taco! We topped ours with slices of avocado, jalapeños, cabbage, cotija, and a drizzle of that yummy Tapatio mayo. Finish off with a fresh lime squeeze and enjoy!