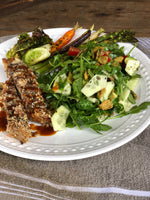 What do you do when you are craving your Grandma's meatloaf but its 2023 and who makes meatloaf anymore? We do...but dare we say...it's better than Grandmas :) BBQ Nut Crumbs + a secret ingredient makes this classic moist, fluffy, and extra delicious! 
This recipe was made with our Barbecue Nut Crumbs ~ a nut-based bread crumb alternative. They are gluten-free, paleo, Keto-friendly, vegan, and delicious! To purchase a bag click here.
Ingredients:
1 lb. ground beef (or turkey)
1 egg
1 c. Barbecue Nut Crumbs (plus extra for topping)
1 T. sparkling water (trust me)
1/4 c. BBQ sauce (plus extra for topping)
1/4 c. green onion chopped (could use white onions as well + bell peppers)
2 t. salt & pepper
hot honey (optional)
Add all your ingredients into a bowl and mix together with your hands. You want to make sure all the ingredients are fully combined without over mixing. The bubbles from the sparkling water (seltzer or any kind works the same) help keep the meat light and fluffy when it cooks. Its the miracle secret ingredient for turkey meatballs, meatloaf, or burgers. No more hockey pucks :)
Once ingredients are combined, add to a loaf dish. We like to line ours with parchment paper for easy clean up. Drizzle the loaf with hot honey (it's amazing...you should really try it if you haven't yet) and additional BBQ sauce. Sprinkle more Barbecue Nut Crumbs on top.
Stick loaf into a 350 degrees preheated oven and cook for 35-40 minutes. 
Serve up with a nice salad, roasted carrots or mashed potatoes and enjoy!
This would also pair beautifully with our Guys Fries
P.S. This makes THE BEST meal prep! So good when heated up the next day.