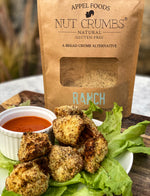 An easy, super yummy appetizer or snack. This plate of Ranch cauli-bites are a game changer and a crowd pleaser! 
This recipe was made with our Ranch Nut Crumbs ~ a nut-based bread crumb alternative. They are gluten-free, paleo, Keto-friendly, vegan, and delicious! To purchase a bag click here.
Ingredients:
1/2 c. Ranch Nut Crumbs
1 head of cauliflower
1/2 c. almond milk
1 egg
Method:
Start by cutting the cauliflower into bite size pieces
In a large bowl, whisk together almond milk and egg. Toss cauliflower bites into bowl covering each one thoroughly in the egg wash.
Pour out the Ranch Nut Crumbs onto a plate.
Coat each cauliflower bite in Nut Crumbs but rolling until coated.
Air-Fryer:
Spray bottom of air fryer basin with avocado oil. Place bites in bucket. Pop in air fryer for 15 minutes at 370 degrees. 
Bake:
Cover baking sheet with parchment paper. Lay bites out on sheet and bake at 400 degrees for 15 minutes.
Serve with your favorite dipping sauce (we used buffalo) and enjoy!