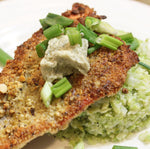 This dish right here should be a Nut Crumbs staple in your house! It's one of our go-to recipes and we just realized it wasn't even on our site.
Whether you use Coconut Curry, Lemon Pepper, Original, or quite frankly, ANY one of our delicious flavors, you will not be disappointed.
Ingredients:
1lb salmon
1 c. Nut Crumbs
1 egg
1/2 c. almond milk
1 head cauliflower
3 garlic cloves
1/3 c. parmesan cheese (optional)
2T butter (optional)
salt & pepper to taste
Let's start with the fish. It's so important to use as high quality seafood as you can...it makes a difference in taste! We always try to source our fish from our local fish market or farmer's market and have yet to be disappointed. 
Take your salmon out and cut into serving size pieces. We use an old wives tale method and place our salmon in a baking dish and soak in milk for 5-10 hours in the fridge. It's supposed to take any fishy-ness away from the salmon. We think it works.
We start this recipe with the cauliflower puree, because it takes longer to cook than the salmon. You can start your salmon while your cauliflower is cooking :)
Cauliflower Puree:
Fill a pot with water + 2 T. salt and bring to a boil. Once boiling, throw in the cauliflower, chopped into chunks and the whole garlic cloves.
Cook until the cauliflower is tender...about 10 minutes. You can use a fork to test.
Strain the cauliflower and garlic and throw in a food processor, vitamix, or you can use an immersion blender. Add 1/4 c. almond milk, parmesan cheese, butter, and salt + pepper and blend until smooth. If you don't have any of these tools, you can make a cauliflower mash instead and just use a potato masher or a good old fashioned fork to mash :)
Salmon:
In a small bowl whisk together 1/4 c. almond milk and an egg.
Pour out your favorite flavor Nut Crumbs in a small plate.
Take each piece of salmon and dunk thoroughly in the egg mixture, then coat on both sides with the crumbs. Once the piece is coated, try not to touch the fish, the more you handle the coated fish, the more the crumbs fall off.
There are a few ways to cook this salmon and they are all delicious!
Bake: Add pieces of salmon to a parchment paper covered baking sheet and bake in a 450 degrees oven for 12-15 minutes.
Fry: Add olive oil + butter in a skillet and fry the salmon for 2 minutes each side on medium heat.
Air Fryer: Pop these into the air fryer and use the fish settings to cook.
Serve the salmon over your cauliflower puree and enjoy!