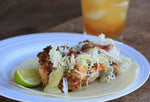 We went old school with this yummy shrimp taco dish and fried beautifully Nut Crumbs coated jumbo shrimp in butter and olive oil before building a delicious taco.
This recipe was made with our Spicy Nut Crumbs ~ a nut-based bread crumb alternative. They are gluten-free, paleo, Keto-friendly, vegan, and delicious! To purchase a bag click here.
Ingredients: Makes about 8 tacos
1/2 c.
Spicy Nut Crumbs
1 lb. jumbo shrimp
1/2 c. almond milk
2 eggs
1/2 c. shredded cabbage
1 avocado
1 lime (cut into wedges)
For the sauce:
1/4 c. olive oil
1/8 c. water
1/2 c. chopped green onions
1/2 c. cilantro leaves
2 garlic cloves
1/2 t. salt
1/2 t. cayenne pepper
1/2 t. chili powder
1/2 t.chili flakes
1/2 t. garlic powder
juice of 1 lime
1/2 avocado
1/2 c. sour cream or full-fat Greek yogurt
8 tortillas (we prefer corn or Siete Almond flour tortillas. )
We used jumbo shrimp for this dish, which was absolutely delicious. Quite frankly, just about any fish would be yummy prepared this way :) 
Start by cleaning, peeling, and deveining your shrimp. We sourced ours from our local fish market Catalina Offshore Products. We always recommend high quality, locally sourced fish when you can do it...makes a big difference!
In a small bowl, whisk together almond milk and eggs. Pour out the Spicy Nut Crumbs on a plate.
Dip the shrimp in the egg wash and then fully coat in the crumbs.
If you are looking to air fry these, check out our air fried fish taco recipe here.
For this recipe we filled a skillet with olive oil and butter heated on medium heat. Add the shrimp, when hot, and turn down to med-low. Cook on one side until shrimp begin to curl, then flip once using a fork or metal tongs.
While the shrimp is cooking...throw all the sauce ingredients into a vitamix or food processor and pulse until blended. 
Warm up the tortillas in a hot pan with a little slab of butter or some more avocado spray.
Remove the shrimp from the pan and start building your taco! We topped ours with slices of avocado, cabbage, and a drizzle of that yummy Cilantro Lime sauce. Finish off with a fresh lime squeeze and dig in.