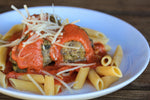 The most delicious Italian classic, this dish is the perfect Sunday dinner. It will bring a smile and a full tummy to all who partake.
This recipe was made with our Italian Nut Crumbs ~ a nut-based bread crumb alternative. They are gluten-free, paleo, Keto-friendly, vegan, and delicious! To purchase a bag click here.
Also...this recipe is from a dear friend Celeste (a true Italian from Long Island, NY).
Ingredients:
For the sauce...
2 large jars (cans) of tomato puree. We recommend Mutti
1 stick of butter
1/4 lb sliced prosciutto or pancetta
1 shallot chopped finely
4 cloves of garlic minced
1 handful of fresh basil
1/4 c. vodka
1 c. heavy whipping cream
salt and pepper to taste
1 lb penne pasta (for gluten free we recommend Banza 
For the meatballs:
Meatball recipe here.
Penne Vodka is surprisingly easy to make...and it only takes about 30 minutes, which is nothing for a good sauce! You can cook it longer, which we like to do, but if you don't have the time, 30 minutes will do.
Start by throwing the entire stick of butter, chopped prosciutto, chopped garlic, and diced shallots in a large sauce pan. Simmer on low for a few minutes or until the meat starts to bubble a bit. Add tomato puree, vodka, and salt and pepper. We add about 1.5 t. of salt to start and a pinch of pepper. You can always add more salt at the end if need be. 
Bring the sauce up to a boil, then set the stove to low heat stirring occasionally. Let simmer for at least a half an hour. You can cook up to 2 hrs if you want...the sauce will just keep getting thicker the longer you cook.
When you are ready to eat, bring a large pot full of heavily salted water to boil and add the pasta.
Pour the heavy cream into the vodka sauce and fully incorporate.
If you want to dress the pasta before serving, add the pasta and about 1/4 c. pasta water to the sauce and stir. 
Serve with our delicious meatballs and some crusty garlic bread and enjoy!