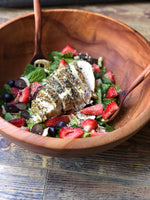 Looking for a recipe to brighten up your day? Look no further! This spring salad is packed with nutrients and is so delicious and simple to make, you will want to make it again and again. 
Here are the ingredients you will need:
2 Chicken Breasts

1/4c. Italian Nut Crumbs

12 Fresh Strawberries

12 Fresh Red Grapes (optional)

1/4 Red Onion

1 Head Romaine Lettuce

3 T. Extra Virgin Olive

2 T. Grass Fed Butter
To start this salad, you will want to preheat your oven to 350 degrees. Place the raw chicken breasts in a baking pan and drizzle with EVOO. Put 1/2 T. of butter on each slice of chicken and cover in Italian Nut Crumbs.
Place the chicken in the oven for 50 minutes. Your house will begin to smell delightful around the 30 minute mark.
At the 40 minute mark, chop up your romaine lettuce and add to giant salad bowl. Slice strawberries into quarters and grapes into halves and add to the lettuce. Using a mandelin, or amazing knife skills, slice the red onion paper thin and add to bowl. Sprinkle remaining Italian Nut Crumbs into salad mixture and dress with olive oil. This Lemon Olive Oil from Pasolivo is to die for and the best way to dress this (and any other) salad. 
Once the chicken is done, take it out of the oven and let rest for 10 minutes before slicing. Add chicken to the salad and toss! Pour a glass of sparkling water and enjoy!