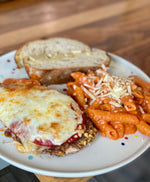 Who knew...you could make chicken parm on a weeknight! This easy-to-make version of one of our favorite classics is perfectly delicious and a lot less work (and calories.) Impress your entire family by cooking this up on a Monday :)
This recipe was made with our Italian Nut Crumbs ~ a nut-based bread crumb alternative. They are gluten-free, paleo, Keto-friendly, vegan, and delicious! To purchase a bag click 
here
.
Let's start with your grocery list...
Ingredients:
1-2 c. 
Italian Nut Crumbs
4 full chicken breasts (will pound and slice down to make 8)
1 c. marinara sauce (I give you my easy homemade one below)
1/2 c. grated parmigiana cheese
1/2 c. fresh or grated Mozzarella cheese
1 c. milk (sub almond if you wish)
1 egg
Pre-heat your oven to 375 degrees.
If you're making homemade sauce, it will take 20-25 min for this quick version: In a sauce pan, add a jar of the Mutti puree. I've tried every canned/jarred sauce out there. This one is the best, hands down. Add a little salt, a little pepper. You can also add a splash of wine and a handful of basil. Simmer on low for about 20-25 minutes (while you're prepping the rest of the dish) and it's perfectly delicious!
A really good jarred sauce works for this recipe as well...don't stress about it!
Next, it's chicken prep time. This step might be the most important, as it is the star of the dish after all :) Placing plastic wrap or parchment paper on your counter, lay the chicken breasts out and slice long ways in half. Cover them in plastic wrap and pound the breasts super thin. This will make the chicken tender and delicious! Lightly salt the chicken.
In a small bowl, whisk together the milk and egg. 
Place the Italian Nut Crumbs on a plate. If you want the "breading" to be extra special, add some parmesan cheese and mix before coating! Drench each piece of chicken in the egg mixture and then fully coat in the crumbs. *I only add half of the Nut Crumbs to the plate at a time, and swap out half way through so they don't get too soggy too quickly from the milk mixture.
Grease a baking sheet with oil spray or just use parchment paper to coat and lay the coated chicken breasts out on the sheet. Bake for 10 minutes
Take the chicken out of the oven and cover each piece with sauce and a generous portion of parmesan and mozzarella cheese.
Pop back into the oven for another 5-10 minutes ( I usually broil on high for the last minute to get the cheese a bit brown and bubbly.) 
I serve this chicken alongside our (also easy) Penne Vodka recipe and crusty garlic bread.
It's so yummy...you'll want to make it on repeat.
Enjoy :)