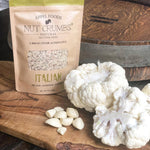 What a crazy time it has been. In our current climate, we are all doing our best to take part in social distancing, which means we're spending more time indoors than ever before. For us, it's meant more time to cook up our favorite meals AND more time for snacking. Which is why we thought it would be unfair of us not to share some of our favorite spiced up snacks for you and your family to enjoy. At Nut Crumbs we think that snack time is just as important as dinner time - leaving no taste buds behind, there's a snack here for every palate!
AIR FRYER PICKLE CHIPS
A classic in our kitchen, this snack can be whipped up in just a few minutes. All you need is your favorite jar of pickles, eggs, and a bag of the Original Nut Crumbs!
How To: Grab a jar of pickle chips or slice up your favorite pickles into chips (or spears if you prefer), it's important to make sure you pat them dry before dipping them into the whisked egg and then coating them in the Original Nut Crumbs.
About 10 minutes in the air fryer and you'll have yourself a tasty treat!
BAKED CAULIFLOWER BITES
Toss cut up cauliflower in your favorite type of oil -  olive, coconut, avocado - then coat with Original Nut Crumbs (we also love cauliflower bites tossed in Coconut Curry Crumbs).
Bake at 450 degrees on a baking sheet for about 20 minutes and you'll have yourself cauliflower, only much much but better.
  CHOCOLATE NUTTY CRUMB BARK
Craving something sweet? ...Who isn't?
An easy fix to a sweet tooth is chocolate bark, BUT to take it up a notch top the bark with Original Nut Crumbs!
Here's how you do it: Choose your favorite type of chocolate - milk, dark, maybe even dark mixed with strawberry - the sky's the limit! To make the bark you'll want to add the chocolate to a microwave safe bowl. Once it's melted and creamy, pour the chocolate in a thin, even layer into a brownie pan or a cookie sheet lined with parchment paper, then top with Original Nut Crumbs.
It's best to let the chocolate cool at room temperature, but once it's completely cool and hardened, break it apart and enjoy!
AIR FRYER SWEET POTATO FRIES
 If you hadn't already caught these on our Instagram page, here they are in all their crunchy sweet potato glory! Gluten free, vegan, and covered in Original Nut Crumbs, these are a must try. If sweet potato isn't your thing try this using your favorite veggie - we like to use zucchini and eggplant with our Italian Nut Crumbs!
Here's how we do it: Wash and then cut your sweet potatoes to desired size. Next cover in olive oil before coating with the Original Nut Crumbs. About 8 minutes on one side in the air fryer and then flip for another 8 minutes and you have yourself beautiful golden and crispy sweet potato fries.
Another option is to cut the sweet potato into chips! Whichever way you cut it up though, we're sure they won't disappoint.
MOZZARELLA HEARTS
 Check out these sweet little mozzarella hearts we cooked up. Is it just us or are snacks even more delicious when they're made into little shapes? Maybe you can help be the judge of that!
Here's how we do it: You'll need 1 egg, 1/4 c. milk (or almond milk), mozzarella cheese (the harder kind...it doesn't melt as fast), a heart shaped cookie cutter (or some serious knife skills!), and Nut Crumbs (any flavor).
Start by cutting your mozzarella into heart shapes. Once cut, stick them into the freezer for 10-15 minutes. This step is super important, as it will help the cheese hold its shape during the cooking process. Then in a small bowl whisk the milk and eggs. Next, dunk the hearts into the mix before coating in whichever flavor of Nut Crumbs are your favorite (we may be biased, but they all taste amazing with this recipe).
Heat the oven to 400 degrees and place in the oven on a baking sheet for 5 minutes or less (we don't want them melting completely, trust us, we've done this).
SPICY OVEN ROASTED CHICKPEAS
Preheat the oven to 450. While that's getting nice and toasty, drain and dry your can of chickpeas. Toss them in whichever oil you like (olive, coconut, avocado) and then coat them in Spicy Nut Crumbs. Once sufficiently spiced, place chickpeas onto a baking sheet and bake for about 30 minutes - or until desired crunchiness is reached.
Then, try not to eat them all at once (we failed in this step)… or do, they are healthy for you!
SPICY CAULIFLOWER WINGS
We love a spicy spin on a classic recipe and spicy cauliflower bites are just that. Plus, they're keto and whole 30 friendly! All you need for this delicious snack is chopped cauliflower, Franks Red Hot Buffalo Sauce, 2 eggs, ¼ c. almond milk, olive oil, and Spicy Nut Crumbs.
How To: In a bowl combine the eggs, almond milk, and Franks Red Hot and whisk till fully combined. Then toss in the cauliflower making sure they're nice and saturated. Next you'll want to spread your crumbs onto a plate to roll the cauliflower in, making sure every inch of each piece is covered, because who wants to miss out on a bite of flavor?
In the final steps, grab your metal tongs, a pan, and your oil. Heating the oil up you'll want to add your cauliflower slowly, cooking about 2 minutes per side.
Once they're cool, I'm sure you'll be catching yourself licking your fingers, as this snack is a spice lovers dream!
COCONUT CURRY POPCORN
We personally love popcorn in any way, shape, or form, but coated in Coconut Curry Nut Crumbs, now that's a game changer!
Sweet and salty, this little treat won't last long.
How To: Make yourself a bowl of popcorn, toss it in your oil of your choosing (or melted butter), toss one more time with coconut curry crumbs, then pop in a movie, sit back, relax, and enjoy!
Now that you're done digging through all the mouthwatering options, leave us a comment and tell us which snack you'll be devouring this week! Or post a picture and tag us on Instagram, @nutcrumbs! Enjoy!