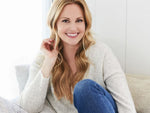 Danielle Walker relays why ditching grains worked for her, what it can do for you and one of the delicious recipes from her latest cookbook, "Eat What You Love".
Grain-free living is one of the nutritional protocols du jour — just look at the Whole30 and Paleo — and one that can be lifesaving or symptom-reducing for those with certain autoimmune disorders, like Celiac and ulcerative colitis. One of the names that have become increasingly familiar in this dimension is Danielle Walker, the creator of the blog Against All Grain and the author of four cookbooks, including her latest, Eat What You Love. She spoke with Clean Eating about the success and health benefits she's found with her grain-free lifestyle and how adopting a similar plan can benefit almost anyone.
Clean Eating: When did you first realize that grains were perhaps at the root of your illness? Do you feel as though the medical establishment needs to look into alternative therapies more so than they do, especially in cases such as this?
Danielle Walker: I was diagnosed with Ulcerative Colitis (UC) at 22 and spent years of my life testing out different medications that were prescribed to me, and nothing was working the way it should. When I wasn't finding the help I needed, I started researching alternative solutions and asking my doctors about the connection between disease and nutrition. My doctors weren't convinced that nutrition could help, but desperate for any kind of solution, I started experimenting with my diet. I followed a way of eating that looked similar to what, today, we call the Paleo diet.
As autoimmune diseases have become more prevalent, I think more and more doctors are exploring different ways to alleviate symptoms and minimize inflammatory risks. For me, I choose to see functional medicine doctors (as long as I'm not in a really bad flare), but I understand that everyone is different. Unfortunately, there is no one solution that's a cure-all for autoimmune disease. 
CE: What are some benefits a grain-free diet can offer to those who don't have an intolerance or autoimmune issue? 
DW: Grains, refined sugars, and dairy are all inflammatory foods, and chronic inflammation can contribute to a variety of health concerns down the road. Also, so many diseases in our country are inflammatory-based, so people can find a variety of relief by simply eliminating grains and other inflammatory foods. 
My whole family eats a similar diet to me primarily because of my auto-immune disease, but after learning so much about the science of food and the impact of inflammatory foods, we feel like our choices matter and we're confident in this way of eating.
CE: Are there any nutritional gaps that people who adopt a grain-free lifestyle need to take into consideration? If so, how can they ensure they receive enough of these nutrients for optimal health?
DW: Everybody's different, and when you alter your diet, there's always a risk that there might be some nutritional gaps. I've worked closely with my functional doctor to identify any necessary supplements that need to be added to my diet, and I'd encourage anyone who's altering their diet to do the same. 
Related: Danielle Walker's Roasted Harvest Salad Recipe
CE: Do you ever encounter people who balk at the idea of giving up grains? How do you convince them otherwise, and what are some of the recipes you have created that you feel are perfect for making those questioning the practice believers?
DW: Absolutely — there are always people that are very doubtful! But I'm doing what's best for my body. I've received incredible responses from people who have followed my recipes, who previously were suffering from debilitating diseases or allergies, and after switching their diets, their health drastically improved. The stories of healing from my followers is the most rewarding thing about my career.
I'm also a big advocate that everyone should learn how to listen to their bodies. What works for me might not necessarily work for someone else. I always say the best way to determine how your body reacts to different foods is to implement an elimination diet, and the best process to do that is usually the Whole30 diet, which many of my recipes are compliant with. This method helps train you to think about the food that you're eating and also be aware of how your body responds to each thing.
CE: With the holiday season ahead, do you have any tips for those who are following a specific diet, including and especially grain-free, on how to handle dinner with family and friends who aren't also following the same eating protocol?
DW: Food has always been an incredibly important part of my life, even before my diagnosis. When I first changed my diet, I spent a lot of time avoiding parties and holiday gatherings. Embarrassed by my special requests, I'd often eat my meals by myself before leaving the house, or when I returned home after parties. 
My cookbook Celebrations was created with holidays, celebrations and life's traditions in mind, and shares a collection of crowd-pleasing recipes that everyone at the table will love. My biggest piece of advice is don't be afraid to host a party or holiday. Share any of my cookbooks and recipes with your friends and family and don't be shy in assigning some of the dishes to them to free up your time. Some of my favorite grain-free recipes for the upcoming holidays include grain-free apple sausage stuffing, maple pumpkin pie, and one of my favorite past-times, a Gingerbread House.
Written by Rachel Debling for Clean Eating Magazine and legally licensed through the Matcha publisher network. Please direct all licensing questions to legal@getmatcha.com.