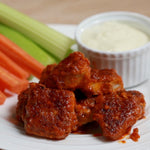 Holy Comfort Food...this is the perfect game day recipe. Warning: Will be gone in seconds!
Ingredients
For the chicken...
1 c. Spicy Nut Crumbs
4 chicken breasts
1/4 c. almond milk (or regular)
2 eggs
1/2 c. buffalo sauce 
For the Ranch Dip dressing...
3/4 c. buttermilk
3/4 c. mayonnaise
1 packet Ranch dressing mix (here)
Start by laying out Saran Wrap on your kitchen counter and place the chicken breasts spaced out. Cover in Saran Wrap and pound chicken very thin using a meat tenderizer. Cut chicken into small nugget sized bites. Salt and pepper chicken if desired (Spicy Nut Crumbs already contain some salt and pepper).
In a small bowl whisk together eggs, milk, and 2 T buffalo sauce. Drench chicken in the milk mixture then coat in Spicy Nut Crumbs.
To cook on Stove Top/Oven: Preheat oven to 350 degrees. Using a nonstick skillet, add 1T of butter and 1T of olive oil. Heat up to medium heat. Once hot, add chicken pieces. Let cook 2 min, then flip using a fork. Cook another minute and cover with remaining Buffalo sauce. Put entire skillet in oven for 7-10 minutes. Be careful when removing the skillet, don't forget that the handle will be VERY HOT! 
To cook with Air Fryer: Place chicken in air fryer and cook on the chicken setting. Our setting cooks for 10 minutes at 360 degrees. Halfway through cooking, open air fryer and cover chicken in remaining buffalo sauce. Finish cooking in air fryer.
In a small bowl add the mayonnaise, buttermilk, and ranch packet and whisk together until smooth. Use about half the ranch for dip. Store the rest in a mason jar in the fridge and use at another time!