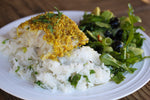 Signs of summer are EVERYWHERE! We're kicking off this season with a fabulous (easy) light weekday dinner. Fresh fish + Coconut Curry Nut Crumbs + Basmati rice = perfection.
This recipe was made with our Coconut Nut Crumbs ~ a nut-based bread crumb alternative. They are gluten-free, paleo, Keto-friendly, vegan, and delicious! To purchase a bag click here.
Ingredients:
1 c. Coconut Curry Nut Crumbs
1 lb. white sea bass (or a nice white fish)
1 can coconut milk
2 c. basmati rice
1 t. salt
1/2 c. fresh herbs (basil, mint, green onion)
Let's start with the white sea bass. We always love to source the best local ingredients (when possible) especially when it comes to seafood. Our local fish market, Catalina Offshore Products, in San Diego, CA, has some of the best fresh fish. This was the perfect white fish we needed to make a perfect summer dish. If you live in San Diego, check them out! If you don't...ask your local market what's fresh and base your recipes on what's there instead of the other way around.
This dish is super easy and makes a perfect weeknight meal.
To start you want to soak the fish in the coconut milk for about an hour before you do anything. Open the can of coconut milk and whisk it together until it's smooth. In a banking dish, cover the fish in the whisked coconut milk and stick in the refrigerator for about an hour. This will add even more coconut flavor to your fish and expunge any fishiness there might be.
Preheat the oven to 400 degrees.
In a rice cooker (or on the stove top) cook 2 cups of rice following the directions on the back of the rice packaging. Typically - 2 c. rice + 3 c. water + 1 t salt. 
While the rice is cooking, grab some parchment paper and spread out the Coconut Curry Nut Crumbs on it. Take the whole piece of fish (or filets if they are cut) and roll into the Nut Crumbs. Set fish on a baking sheet and bake in a 400 degrees oven for 15-20 minutes.
When the rice is finished, chop up a whole bunch of herbs (the more the better) and mix in.
Lay out the rice on a serving dish and top with the fish and some more fresh herbs. 
Serve with a salad or green veggie and enjoy!