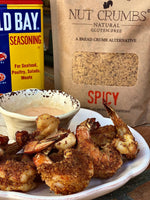 If you've been following us for a while you know we love Spicy Nut Crumbs + Old Bay Seasoning. We transformed an old family favorite recipe and fried these bad boys in butter and evoo. The result - AMAZING!
This recipe was made with our Spicy Nut Crumbs ~ a nut-based bread crumb alternative. They are gluten-free, paleo, Keto-friendly, vegan, and delicious! To purchase a bag click here.
Ingredients:
For the Shrimp:
1/2 c. Spicy Nut Crumbs
1 T. Old Bay Seasoning (give or take)
1/2 lb. of jumbo shrimp (ours is from Catalina Offshore Products)
1/4 c. almond milk
1 egg
1/4 stick of butter
1/4 c. extra virgin olive oil (evoo)

For the Dipping Sauce:
1/4 c. mayonnaise
1 T. hot sauce
1 lime wedge squeeze
Start by whisking together the almond milk and egg in a small bowl. Pour Nut Crumbs out onto a plate and add the Old Bay to the crumbs. Mix well.
Holding each shrimp by the tail, dip in the milk mixture then fully coat in the Nut Crumbs.
Add grass fed butter and evoo to a sauté pan on med heat. Once oil mixture is hot, add shrimp one by one. Cook for 2 minutes on the first side and then flip, grabbing the shrimp by the tail to flip. DO NOT use rubber tongs and grab the shrimp by the body or all your crumbs will fall off :)
Once flipped...cook another 2 minutes on the other side.
In a small bowl mix together the mayo, hot sauce, and lime wedge for dipping.  
Plate and serve!

*You can also pop these into the air fryer if you don't want to cook on the stove. Cook at 400 degrees for approximately 8 minutes.