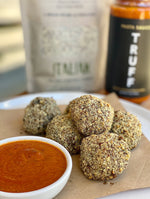 This is a classic Italian dish that makes a fabulous appetizer or the perfect side to any protein. They're creamy, yummy, and a little bit crunchy. 
This recipe was made with our Italian Nut Crumbs. Nut Crumbs are gluten-free, paleo, Keto-friendly, vegan, and delicious! To purchase a bag click here.
Ingredients:
1 c. Italian Nut Crumbs
1/2 c. almond milk
1 egg
2 T. olive oil
3 T. butter
1.5 c. parmesan cheese grated
1/4 c. dry white wine
1 shallot
3 garlic cloves
1 c. risotto rice (arborio)
1 lb. shitaki mushrooms
4 c. chicken or beef broth
1/2 c. sauce for dipping (We used TRUFF Pomodoro)
s+p to taste
Risotto Method:
Ok, so first off...this risotto takes a while to make. While it's time consuming, it's not hard and you cannot rush the process! It's best if the risotto is made the day before, because it needs to be fully cooled to prepare the risotto balls. 
Start by adding all your broth to a sauce pan and bring to a boil.
While your waiting for the broth to boil, chop your shallot, garlic cloves, and mushrooms finely. Add these to a large skillet (we prefer cast iron) with your olive oil and a bit of salt and pepper. Bring the heat to medium, but be sure not to let the pan get too hot, as it will burn the garlic and we don't want that! Cook for about a minute.
Add in the risotto to the pan and let toast for another minute.
Add the white wine and cook for another 2 minutes, letting the liquid cook out. 
Now it's time for the fun part! Your going to add the boiling broth to the risotto one cup (or ladle) at a time, stirring in between. This portion can take up to 25 minutes.  
If you run out of roth, add some water into the boiling broth and make sure you wait until it heats up before adding to the risotto.
Add the first cup to the risotto and let cook, stirring occasionally, until most of the liquid is fully absorbed and there are bubbles. The bubbles activate the risotto to soften.
Repeat this step until the risotto is tender, but not over cooked. There should be a slight bite to the rice. 
Once cooked, remove from the heat and add your butter and cheese :)
Stir to incorporate and taste. You might need to add more salt and pepper at this point. The next step is the hardest...move risotto to a bowl, cover, and stick in the fridge until completely cooled. We always make ourselves a small bowl to enjoy first :)
Rice Balls Method:
Now for the easy part! Set up a breading station with a bowl of egg/almond milk whisked together and a plate of Italian Nut Crumbs.
If you have a cookie scoop, I highly recommend using, as it makes things easier and the balls a uniform size.
Scoop out the risotto and roll in your hands to make it a compact ball. Roll the ball in the egg mixture and then in the Nut Crumbs, fully coating. 
There are a few different ways to cook these. You can fry them in olive oil and butter in a skillet, which is delicious...you essentially just cook until all sides are browned.
You may also cook them in the air fryer (which is what we did). Spray the fryer basket with avocado oil and then place the balls in the basket. We also sprayed the top with more oil to get them extra crispy. Cook at 400 degrees for about 10 minutes.
Last...you could bake them on a cookie sheet with parchment paper at 425 degrees for about 10 minutes.
Serve with your favorite marinara and enjoy!
Eating tip...these are meant to be eaten with a fork...they are not as firm as a chicken nugget for example, so grab a small plate and enjoy...they are INSANELY delicious!