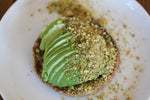 This will probably be the shortest recipe we ever write, but it's one of our favorites! While we're giving you the healthier version, feel free to doctor up as you please :)
Start with high fiber or gluten-free bread such as Ezekial Bread from Food for Life. We LOVE their english muffins, and used that for the dish pictured. You can find them here.
Toast the english muffin, so it's nice and crispy and add a small amount of grass fed butter. We prefer Kerrygold, because it's delicious and you can get a great deal on it in Costco :)
Once buttered, add your sliced avocado and sprinkle with your favorite flavor Nut Crumbs. The result is a DELICIOUS healthy treat that you can feel good about eating. 
Enjoy!