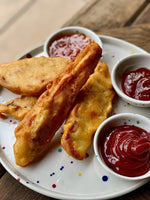 We went fishing this past weekend and my son caught a beautiful sea bass. Naturally, we had to fry it up in some Lemon Pepper beer batter. These were insanely delicious. You can sub out some ingredients to accommodate your health level...or just make as is for a special treat :)
This recipe would be delicious with our Lemon Pepper, Spicy, or Original Nut Crumbs ~ a nut-based bread crumb alternative. They are gluten-free, paleo, Keto-friendly, vegan, and delicious! To purchase a bag click here.
Ingredients: Makes about 8 pieces
Ingredients:
For the fried fish...
1 c. flour (sub almond flour)
1 12 oz. can of beer (we used a light crispy asian beer, sub with club soda or sparkling water)
1/2 c. Nut Crumbs (Lemon Pepper, Original, or Spicy are all delicious)
1 lb. cod
Canola oil (sub olive oil) for frying
Any white fish would work well cooked this way. We've done this with cod and halibut before. Start by slicing your fish in appropriate size pieces. We sliced ours longer and a bit slim. 
In a medium bowl, whisk together flour, Nut Crumbs, and beer. Feel free to switch up your beer to change the flavor (or use whatever you have in the fridge!) You can also use a gluten free beer. If you don't want to use beer, you can also use anything carbonated...like sparkling water or club soda :) If you have the time, let sit in the refrigerator for 10-20 min and let the bubbles do their thing.
Pour enough oil in a large cast iron skillet to fully cover the fish. You can cook in batches, so this will depend on the size of your skillet. Heat up oil to a med high heat (about 350 degrees).
Once the oil is at the right temp, place each fully coated piece of fish in it. Cook for about 2 minutes on each side, or until golden brown.
Remove the fish from the skillet and place on a slotted metal sheet to let the oil drain off.  We served ours up with some bottled sauces we had in the fridge. A quick aioli would be fab. Malt vinegar would be delicious on these as well.
Pro tip: Make some air fried sweet potato fries to serve as a side and you have a very elevated fish and chips :)