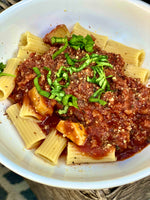 A truly yummy version of the classic pasta dish. It's shockingly delicious and really easy to make. 
This recipe was made with our Italian Nut Crumbs ~ a nut-based bread crumb alternative. They are gluten-free, paleo, Keto-friendly, vegan, and delicious! To purchase a bag click here.
Ingredients:
For the sauce...
2 large jars (cans) of tomato puree. (We recommend Mutti)
3 T olive oil (Basil olive oil adds lots of flavor)
1/2 bag meatless crumbles (from Plant Boss) 
1 shallot chopped finely
4 cloves of garlic minced
1 handful of fresh basil
2 zucchinis diced 
1/2 c. coconut cream (coconut milk works too, might need to add more)
1 c. Italian Nut Crumbs
salt and pepper to taste
1 lb chickpea pasta (we recommend Banza)
This dish takes about an hour if you want the sauce to taste its best. You can cook it longer, if you want to...the longer it simmers the bigger the flavor.
To begin, if you are using the meatless crumbles, they need to soak in water for 20 minutes. We used half the bag for this recipe. If you don't want to use these crumbles you could always add more veggies instead. While they are soaking, get started on the sauce.
Start by adding 1T of the olive oil to a deep skillet and add tomato puree and salt and pepper throw in the handful of basil as well. Let simmer on low.
Once the meatless crumbles are ready, add 2T of olive oil to a cast iron skillet and add the shallot, garlic, zucchini and salt and pepper. Cook on low/med heat (do not burn the garlic!) for about 3-5 minutes.  Add in the meatless crumbles and Italian Nut Crumbs and cook for another 2 minutes.
Add the coconut cream to the sauce, stir until incorporated and taste in case you need to add more salt and pepper. Add all the veggie crumbles to the sauce and let simmer on low for up to an hour. Taste one more time (although you won't be able to stop tasting the sauce) to check for salt levels. 
When you are ready to eat, bring a large pot full of heavily salted water to boil and add the pasta.
Serve with some yummy basil garlic bread (basil, olive oil, garlic, salt blended and smeared on the bread) and you have yourself an Italian Feast!