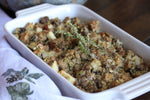 Original Nut Crumbs are the ingredient Gluten-Free stuffing has been missing all along. Try out this sausage | apple version and your taste buds will thank you.
We used Original Nut Crumbs ~ a nut-based bread crumb alternative. They are gluten-free, paleo, Keto-friendly, vegan, and delicious! To purchase a bag click
here
.
Ingredients:
3 slices of gluten free bread diced
1/2 white onion chopped
1 apple diced
1 giant portobello mushroom chopped small
3 garlic cloves chopped fine
3 green onions chopped 
1/2 c. Original (or Italian) Nut Crumbs
1/2 lb. ground pork sausage (optional)
4 T. grass fed butter
Kosher salt to taste
1/4 c. white wine (optional)
Start by using a large skillet. I prefer cast iron, but anything that you have at home is fine! Drop the butter in the skillet and turn the heat up to medium. Add the white onions and mushrooms and cook down for a few minutes.
Next we're going to add the garlic, apple, green onion, and Original Nut Crumbs and cook for another minute. Take the onion mixture out of the pan. Using the same pan, turn up the heat to high and throw in the pork. Saute until the pork is cooked thoroughly. Add the onion mixture back into the pan and throw in the white wine if you're going to use it. BTW...Highly recommend  :) Cook for a minute and add the diced bread, incorporating mixing until all is incorporated.
Place the stuffing into a baking dish and bake for 35 minutes at 350 degrees. We also tried stuffing the bird with this stuffing and it was quite delicious as well.