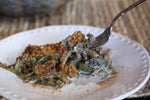 Who doesn't love good old fashioned green bean casserole? We decided to put a Gluten-Free Spicy Nut Crumbs spin on this classic and it was amazing! We used Spicy Nut Crumbs ~ a nut-based bread crumb alternative. They are gluten-free, paleo, Keto-friendly, vegan, and delicious! To purchase a bag click here.
Ingredients:
1/4 c. Spicy Nut Crumbs
1/4 c. almond milk ( or heavy cream)
2 c. green beans (fresh or canned)
2 green onions
2 portobello mushrooms (giant)
2 T. grass fed butter
2 T. broth (can be chicken or vegetable)
pinch of Kosher salt
To start, we are going to recreate the classic cream of mushroom soup that is so essential to this dish. Grab a blender or food processor and throw the mushrooms in, blending them as fine as they can be. Feel free to add shitaki mushrooms or a different kind, depending on your fungi preference :) They will end up in a mash-like consistency. Now in a large skillet add the broth, butter, sliced green onions, and mushrooms, stirring with a whisk. Cook on medium heat for about a minute and add your milk (or cream) and reduce down until it thickens.
For the rest of this recipe...you have some options :) If you went with the canned beans (no judgement here, as they are quite delicious in this old fashioned dish) you won't need to add much salt and you can incorporate them into the "cream of mushroom soup" we just made. You may also sprinkle in a few tablespoons of Nut Crumbs. Both the Italian and Spicy are absolutely delicious in this dish! You can then throw everything in a crockpot and cover with a layer of Nut Crumbs and let slow cook for an hour or two OR you can place the mixture in a baking dish and cook on 350 degrees for about 30 minutes.
If you want to use fresh green beans for this, the thinner the green beans the better, you might want to even slice them in half long ways. You will also want to pre-cook the green beans by boiling or steaming them to get them really soft before adding into the mushroom mix. You will also have to add some extra salt.
As pictured here, we opted for baking the dish and went with the canned beans due to the fact that this dish was made in the mountains at "Grandma's cabin" and there is only one grocery store in town :)
Serve this dish with all your other favorite Thanksgiving dishes and your guests will be pleasantly surprised at the deliciousness of this Gluten-Free green bean casserole!