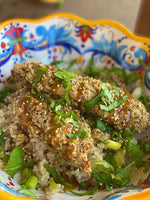 Truth be told...I was craving my son's classic Orange Chicken over rice dish and wanted to create a healthier asian inspired dish. This hit the mark and was absolutely delicious!
This recipe was made with our Everything Nut Crumbs ~ a nut-based bread crumb alternative. They are gluten-free, paleo, Keto-friendly, vegan, and delicious! To purchase a bag click here.
Ingredients:
1/2 c. Everything Nut Crumbs
1 lb. chicken tenders (or breasts sliced in strips)
1 egg
1/2 c. almond milk
1/4 c. green onion
1/4 c. fresh mint leaves
1/4 c. fresh basil leaves
1 T. sesame seeds
2 c. brown rice (can sub cauliflower rice)
For the sauce:
1/2 c. coconut aminos
1 t. fish sauce
3 T. peanut butter (can sub with almond butter or tahini)
2 t. mustard powder
3 garlic cloves (2 if you aren't a garlic freak :)
1/2 in. piece of ginger 
Method:
Rice will take the longest to cook, so cook the brown rice according to the instructions on the package. You can use coconut milk in place of water to cook the rice in for extra special flavor. You may also just use those microwavable bags of rice (like we did) to make this an easy peasy week night dish.
Start by using your favorite cut of chicken, trim, and pound with meat tenderizer until desired thickness. Chicken tenders are the perfect size for this dish. You can also use breasts and just slice them into tenders :)
Whisk eggs and almond milk (or regular milk) together in large bowl. 
Place chicken in the egg mixture.
Pour out Nut Crumbs on a plate…dredge the chicken until thoroughly coated. We find it works best to use a fork to flip the chicken.
Stove/Oven Cooking:
Preheat the oven to 350 degrees. 
In a skillet add the EVOO and grass-fed butter. Heat to medium/hot temp and add chicken. Cook 2-3 minutes on one side and flip, cooking for an additional 2-3 minutes. Remove from pan and place on baking sheet. Place in hot oven for 10 minutes or until chicken is cooked through.
If you want to skip the butter and oil you can just bake at 350 degrees for 15-20 minutes. They will be crispier if fried :)
Air Fryer:
370 degrees for 12-17 minutes depending on tender thickness
While the chicken is cooking. Throw all the sauce ingredients into a food processor and blend. Depending how strong your processor is, you may have to grate the garlic and ginger first.
Chop up the green onion, basil, and garlic into thin strips.
When everything is cooked, plate by putting the rice down first, top with your chicken, drizzle with the mustard peanut sauce, and sprinkle with the fresh herbs.
Enjoy!