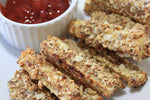 Who doesn't love french fries? When you're craving that potato crunch, but are trying to eat healthy, this should be your go to snack!
 Let's start with your grocery list...
Ingredients
Original Nut Crumbs
Sweet Potatoes
Eggs
Almond milk 
Dipping Sauce of your choice!
 Wash your sweet potatoes and slice them up in the shape of fries. Feel free to cut in wedge, or round shape if that's your preference!
Whisk together a splash of almond milk with two eggs until combined. Coat the sweet potatoes in the egg mixture and dredge in Orginal Nut Crumbs. Our Spicy Nut Crumbs are also delicious in this recipe, if you are looking to turn up the heat!
Preheat oven to 400 degrees. Line all the breaded potatoes on a baking sheet, spread out evenly. Once oven is fully preheated, put the baking sheet in the oven for about 25 minutes. 
Dish up your favorite dipping sauce and boom, you have healthy, tasty sweet potato fries!