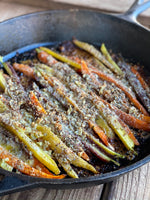 This dish was inspired by a delicious french fry dish we had while out to dinner. It was covered in blue cheese and garlic and called "Guys Fries." We couldn't help ourselves but create a healthy(er) version of this yummy side. The carrots turned out so good...they just might be better than the original.  
This recipe was made with our Italian Nut Crumbs ~ a nut-based bread crumb alternative. They are gluten-free, paleo, Keto-friendly, vegan, and delicious! To purchase a bag click here.
Ingredients:
1/4 c. Italian Nut Crumbs
1 bunch of rainbow carrots
1/2 c. crumbled blue cheese
4 garlic cloves
2 T. olive oil
salt & pepper to taste
Method:
Preheat oven to 450 degrees.
Clean carrots really well and slice into thin wedges long ways. 
Peel and chop garlic super fine.
In an oven safe baking dish (cast iron works great for this) toss your carrots in the olive oil and lay them out side by side. Sprinkle the garlic, blue cheese, and Italian Nut Crumbs (in that order) over top of them. 
Bake for 10-15 minutes. Broil on high at the end for 1-2 minutes. 
Serve as a side dish to just about anything. We paired ours with cauliflower puree and a nice steak.
*This recipe would also turn out great using the air fryer!