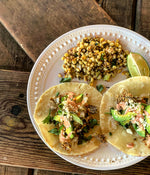 This corn is TO DIE FOR. It's a twist on the traditional Mexican street corn...but it's just as delicious and the perfect spring dish. Also...it's really not healthy, like at all. But it's YUMMY.
This recipe was made with our Spicy Nut Crumbs ~ a nut-based bread crumb alternative. They are gluten-free, paleo, Keto-friendly, vegan, and delicious! To purchase a bag click here.
Ingredients:
1/2 c. Spicy Nut Crumbs
6 ears of corn (sub cauliflower rice)
1/3 c. cotija cheese
4 garlic cloves
1/2 white onion
2 T. olive oil
2 T. butter
1 T. chili pepper flakes
1/4 c. cilantro
salt & pepper to taste
Method:
Start by shucking the corn and cleaning all the little pesky strings off of it. Slice the corn off the husk, directly into a large skillet. If you have a cast iron skillet, use it for this recipe...it just tastes better :) You can sub cauliflower rice if you don't do corn.
Dice up the onion and garlic and throw into the skillet as well.
Add butter, olive oil, and chili flakes to the skillet and turn that puppy up to med high. Salt the mixture while cooking. The Nut Crumbs have salt in them, so no need to add a ton, but do add about a teaspoon so that the onions will sweat a bit more.
Stir frequently and let the corn cook for about 10 minutes or until slightly browned/charred pieces.
Add the Spicy Nut Crumbs and cook (stirring often) for another 2 minutes.
Remove the pan from the heat and add chopped cilantro and crumbled cotija. Give a final stir and serve with your favorite main. We suggest burgers, tacos, chicken...or just about anything!