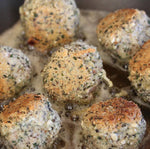 This recipe was made with our Italian Nut Crumbs, a nut-based bread crumb alternative. They are gluten-free, paleo, Keto-friendly, vegan, and delicious! To purchase a bag click here.
Ingredients:
1 lb ground turkey
1 lb ground pork
3 eggs
1/2 c. shredded parmesan cheese
1/4 c. almond milk
1/4 c. extra virgin olive oil
2 T. ghee
salt & pepper
Grab a large bowl and add the turkey, pork, 1 egg, 1/2 c. Nut Crumbs, and parmesan cheese. Mix together until thoroughly combined. You can add salt and pepper at this point if you'd like, but the Italian Nut Crumbs have so much flavor and seasoning, that I've found it unnecessary. You can also add chopped onions if you want some onion flavor. I typically will use a red or green onion...again...personal preference!
Whisk together remaining two eggs and almond milk in a bowl and pour out the rest of the Italian Nut Crumbs on a plate.
Start forming the meatballs to your preferred size. Because we're using turkey and pork, I like to err on the side of smaller, as we don't want the middle of the meatball any form of medium rare. 
When I use ground beef...I make them a little bigger. Roll out all the meatballs and start dunking them in the egg mixture, then roll them in the Nut Crumbs.
In a skillet, add your evoo and ghee and heat to med/high. Once hot, place the meatballs in the pan. Cook for about 2 minutes on one side then rotate. 
Flip every two minutes until all sides of the meatballs are browned. Once browned, add to your sauce. You can buy pretty good sauces now a days...but homemade sauce is really easy to make as well! We will post that recipe another day :)
Let meatballs finish cooking in the pot or slowcooker for another hour or until cooked through. The smell that will be filling your house is just divine! 
To round out this yummy, healthy meal I serve it with spaghetti squash . Preheat oven to 425 degrees. Slice squash long ways, season with salt, pepper, and a dash of evoo. I also add some paprika for a little spice. 
Place on a baking sheet face down and bake for 30 minutes. When the squash is done you will be able to pull it with a fork and it forms spaghetti like pieces. 
Serve up this healthy comfort dish and enjoy!
 To purchase the Italian Nut Crumbs...click here!