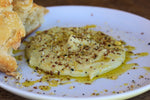 This creamy, lemony, garlic flavored hummus is way better than any store bought hummus we've ever tried.
This recipe was made with our Everything Nut Crumbs ~ a nut-based bread crumb alternative. They are gluten-free, paleo, Keto-friendly, vegan, and delicious! To purchase a bag click here.
This recipe is a spin off of the one we found from Inspired Taste. You can see her full recipe along with tips and tricks here.
Ingredients:
1 (15-oz) can chickpeas
1/4 c. fresh lemon juice
1/4 c. tahini (sub natural unsweetened peanut butter if needed)
2 garlic cloves
2 T. lemon olive oil (sub regular olive oil if needed)
1/8 c. fresh basil
salt + pepper to taste
2 to 3 tablespoons ice cold water
1 T.
Everything Nut Crumbs
So the best thing about hummus is that you can add whatever your heart desires. If you don't like garlic, don't add it! If you don't have basil...it's not necessary :) Regardless...everyone should made homemade hummus at least once in their life. The problem is that it's really hard to go back to store bought once you've made your own.
You have to use really high quality olive oil for this. You can find lemon olive oils many places, but our favorite is the Pasolivo Lemon Olive Oil which you can find here. They also have a bunch of different flavored olive oils that would be amazing to experiment in hummus.
Every week we meal prep Nut Crumbs chicken breasts and a double recipe of . perfect lunch is a piece of chicken, a small green salad, and a dollop of this amazing hummus :)
Here's how you make it.
You will need a food processor or really good blender (Vitamix) to get the hummus really smooth.
Start by adding the tahini and lemon juice and let mix for at least a minute. Once fluffed up a bit, add the chick peas, basil, garlic cloves, olive oil, and whatever other spices you want to throw in. Some people like cumin, garlic powder, etc.
Let the processor go for another minute or two. If you think it's mixed enough, let it mix a little bit longer! Add the ice cold water and let blend for another minute. This makes the hummus light and fluffy :)
Once the hummus is smooth as butter, serve on a plate and drizzle with some more olive oil and Everything Nut Crumbs. Serve up with raw veggies, crackers, sour dough bread, or just eat with a spoon.
Enjoy!