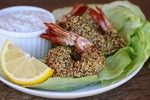 There is nothing like beautiful jumbo shrimp with a perfectly golden crust paired with a yummy dipping sauce. 
This recipe is easy, light, healthy, and DELICIOUS!
This recipe was made with our Lemon Pepper Nut Crumbs ~ a nut-based bread crumb alternative. They are gluten-free, paleo, Keto-friendly, vegan, and delicious! To purchase a bag click here.
INGREDIENTS:
For the shrimp...
6-10 shrimp (we used jumbo size here)
1/4 c.
Lemon Pepper Nut Crumbs
1/4 c. milk (almond milk works great too)
1 egg
For the dip:
We used the recipe from Rachel Cooks which can be found here.
To begin...clean and devein your shrimp leaving the tail on. We got these beautiful jumbo babies from our local fish market, Catalina Offshore Products. While we love and highly encourage supporting local markets...we totally get it if you grab a bag of frozen Costco shrimp. Been there, done that, and it does the trick :)
Whisk together the milk and egg in a small bowl.
Pour out the Lemon Pepper Nut Crumbs on a plate. 
Holding the tail of the shrimp, dunk in the egg wash and fully dredge in the crumbs.
When it comes to cooking the shrimp you've got a few options :)
If you've been following our Instagram for a while, you know we are OBSESSED with our air fryer. It's so easy to use, doesn't make a mess, you can use less oil/butter, and everything comes out perfectly cooked! Click here to see the one we use.
These shrimp were popped in our air fryer for 8 minutes at 360 degrees. 
Another option is to bake the shrimp in a 375 degrees oven for 8-10 minutes. Definitely use a non stick baking sheet (or parchment paper) and you can spray the top of the shrimp with Olive Oil, Avocado Oil, or drizzle with butter :)
The last option is to fry these bad boys in a sauté pan with olive oil and butter. The key to this is to make sure you have a non stick pan, don't have the temp too hot (medium is recommended), and make sure you don't move the shrimp once they are in the pan, or you will lose the crumbs! Flip once by grabbing each piece by the tail and cook for about 2 minutes on each side.
You can't go wrong however you choose to cook these beautiful Lemon Pepper Nut Crumbs encrusted shrimp.
Enjoy!