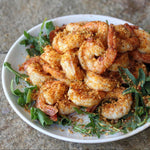 We are a huge fan of the classic Old Bay seasoning. We transformed an old family favorite by adding our Spicy Nut Crumbs to the mix and these delicious recipe was the result. It is super easy, light, and will be gone before you blink.
This recipe was made with our Spicy Nut Crumbs ~ a nut-based bread crumb alternative. They are gluten-free, paleo, Keto-friendly, vegan, and delicious! To purchase a bag click here.
Ingredients:
1/2 c. Spicy Nut Crumbs
4 T. Old Bay Seasoning (give or take)
1 lb bag of frozen shrimp (tail on, peeled, deveined)
1 stick of butter
Add grass fed butter to a giant sauce pan and melt. Throw in the raw shrimp (peeled with tails on is the the best to use for this!) and sprinkle with lots of Old Bay seasoning.
Stir until shrimp are cooked through.
Grab a plate (or bowl) and start spooning out the shrimp. Sprinkle a generous amount of Spicy Nut Crumbs and more Old Bay in between each layer of shrimp.

Now watch these bad boys disappear in seconds!