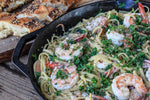 When you are craving that garlic, lemon-y, buttery, wine-ish, deliciousness...this is your dish. It's sooooo good and the epitome of comfort food. 
This recipe was made with our Italian Nut Crumbs ~ a nut-based bread crumb alternative. They are gluten-free, paleo, Keto-friendly, vegan, and delicious! To purchase a bag click here.
Ingredients:
1/4 c. Italian Nut Crumbs
6 T butter
4 T extra-virgin olive oil
8 garlic cloves, minced
1 c. dry white wine or broth
1.5 t. salt
1/4 t. crushed red pepper flakes (optional)
1 t. ground black pepper
1 pound large shrimp (tail on, peeled, deveined)
1/2 c. chopped parsley
1 lemon squeezed
1 lb. linguini
Fill a large pot with heavily salted water and bring to a boil. Once boiled, add your pasta. Cook until al dente...about 7-9 minutes.
In a large skillet (we recommend a cast iron), melt butter and olive oil. Add your garlic and sauté on med heat for about 2 minutes.
Add wine (you can use broth if you'd like), salt, red pepper flakes and black pepper and bring to a simmer for about 2 more minutes.
Add shrimp and sauté until they just turn pink, 2 to 4 minutes. We used beautiful Mexican Jumbo Shrimp that we got from Catalina Offshore Products in San Diego. We always love shopping fresh and local when you can!
Stir in the parsley, lemon juice, and 1 ladle of the pasta water and use tongs to add the al dente linguini. 
After you plate, sprinkle with Italian Nut Crumbs and parmesan cheese.
Serve alongside some good old fashioned crusty garlic bread and a really good glass of wine and enjoy!