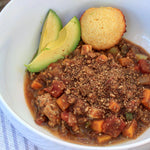 Ingredients:
1 Can Pumpkin Puree (not seasoned)
2 (28 oz.) Can Crushed Tomatoes
Optional Seasonings:
1 t Cayenne Pepper Powder
This chili is absolutely delicious, and the perfect fall dish. It's also Whole30 compliant (which is shocking!) 

We like to start off by prepping all the ingredients. Dice the butternut squash, onion, sweet potato, bell pepper, and jalapeno pepper and set aside. 

Add the EVOO to a large sauce pan on high heat and cook the ground beef until browned. Once browned, remove from pot and set aside in a bowl.

Add onions and peppers to hot pot, salt generously, and brown on high heat. Place the beef back into the pan and add all the other remaining vegetables. 

Mix in pumpkin puree, tomatoes, and optional seasonings and Barbecue Nut Crumbs. Add a cup of water (or more, depending how thick you like your chili.)

Let pumpkin chili cook for two hours on low heat, or until the squash and potatoes are soft. 

Plate in bowl and top with your favorite pairings. Crème Fresh is AMAZING in place of sour cream on this chili :)  Serve with some warm cornbread and enjoy!