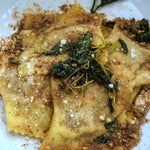 Imagine a savory pumpkin pie stuffed in fluffy white pillows of pasta. Sometimes you just need some good old fashioned comfort food that isn't even remotely healthy for you. That's what this recipe is :) That being said, we still believe in using the highest quality ingredients, so that if you're going to indulge, at least you're putting the best in your body. 
Ingredients:
1 1/2 c. seminola flour
1 1/2 c. organic unbleached flour
14 eggs (11 egg yolks + 3 eggs)
2 T. olive oil
1 1/2 t. kosher salt
1 15 oz. can of organic pumpkin
2 sweet potatoes
1/2 c. parmesan cheese, grated
6 T. grass fed butter
fresh sage
Ok so here's a disclaimer for you. If you've never made homemade pasta before, it can be daunting. This recipe is not that difficult to make, but there are a lot of steps. Make this on a rainy weekend afternoon while sipping wine and listening to good music and enjoy the process.
If you head on over to our instagram page, we've posted the step by step video instructions of this recipe in our highlights. You can find that
here
.
We use the pasta recipe from Scott Conant's book , The Scarpetta Cookbook, which you can pick up
here
. It's a GREAT Italian cookbook! 
If you own a KitchenAid mixer, or something similar, it makes this dish much easier to make. You will also need a pasta roller. You can find many online that are manual and relatively cheap. The ultimate pasta roller is the attachment for your mixer, but it is a little pricier, if you're in the market for one, you can find it
here
. 
The authentic way to make homemade dough is by making a mound on a clean table top with the dry ingredients and putting all the wet in the middle, slowly incorporating them with your hands. An easier way is by mixing all the dry ingredients in your mixer, then adding the wet and letting the dough hook do the job! We chose the latter :)
Before you make the pasta, you need to start cooking the sweet potatoes. Poke holes in the sweet potatoes, using a fork, and place on a baking sheet. Bake in a 350 degrees oven for about 45 minutes or until fully cooked. 
To start the pasta, you are going to want to separate 11 egg yolks from the whites. It's easiest to crack the egg in your hand and let the white part sift through your fingers into a Tupperware.
We will use some of the egg wash to help seal the ravioli, but the rest can be used for breakfast during the week! Add your three whole eggs to the 11 egg yolks and set aside.
Add the flour and salt into the mixer and incorporate, then drop in the eggs and olive oil and knead with the dough hook for about 5 minutes. Once the dough is basically formed, you can knead on a surface by hand if you prefer.
It's kind of fun and a great arm workout! Once dough is fully kneaded, wrap in Saran Wrap and place in the refrigerator for at least an hour. 
While the dough is resting, its time to make the filling! Take out the sweet potatoes from the oven and peel the skin off of them. In a large bowl, add the potatoes, pumpkin, cheese, and half the butter.
Using hand beaters, mix together until fully incorporated. It's ok if there are some potato chunks, as it will add to the texture of the raviolis. Cover the bowl with Saran Wrap, and place in the fridge to cool.
 Take out the pasta dough and roll out with a rolling pin, and then your pasta roller.
We want long, flat, wide sheets to place our filling on. Place spoonfuls of the filling about an inch a part from one another on the sheet.
Brush the perimeter of the filling with egg wash and fold over the dough pressing gently to seal the ravioli. Cut in square shapes and stick in the freezer. Repeat until all the dough/filling is gone. 
When you are ready to eat this delicious dish, get a giant pot of salted water to a roaring boil, and place as many raviolis that comfortably fit in the pot. Cook for about 3-4 minutes. 
As far as sauce goes, there are so many festive sauces that can go on this pasta. We kept it simple and browned butter with fresh sage. All you have to do is put a heaping chunk of butter in a skillet with the fresh sage and heat until browned.
It develops an almost nutty flavor. When plating, sprinkle with some more Pumpkin Spice Nut Crumbs and some freshly grated parmesan cheese. Enjoy!