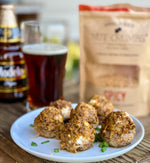 This is a delicious twist on the classic stuffed mushroom. They are so yummy we just may never go back to making stuffed mushrooms the old fashioned way.
This recipe was made with our Spicy Nut Crumbs ~ a nut-based bread crumb alternative. They are gluten-free, paleo, Keto-friendly, vegan, and delicious! To purchase a bag click here.
Ingredients:
1 c. Spicy Nut Crumbs
2-3 lbs. white button mushrooms (will fill between 30-40 mushrooms)
1 lb chorizo
4 garlic cloves
1/2 white onion
1 small shallot
1/3 c. beer (we used Negra Modello)
8 oz. cream cheese
1 Egg 
3/4 c. Parmigiana cheese
 
Start by rinsing the mushrooms thoroughly in a strainer. You can use mushrooms other than the white buttons, but because they are nice and firm in texture and the perfect size bite, these are the ones we recommend!
Take each mushroom and break the stem off. They should pop right off! Keep the stems and set them aside, as we are going to use them in the stuffing.
Throw the stems, onion, garlic, and shallot into a food processor until broken down into tiny pieces.
In a skillet add some olive oil. Once hot, add the onion | mushroom mixture. Salt & pepper and add the beer. Cook until most of the liquid reduces. 
Add in the chorizo and break a part with spoon. Cook until meat is done, about 5 minutes.
Add 1/2 c. of Spicy Nut Crumbs to the pan and saute for another  minute.
Take the mixture out of the pan and put into a large bowl. Add in your cream cheese, parmesan cheese, egg and the rest of the Spicy Nut Crumbs. Combine thoroughly. 
Cover the bowl and stick in the fridge for an hour.
Using a spoon (or cookie scoop), stuff each mushroom with as much filling as can fit into where the stem of the mushroom used to be. Place each mushroom into a baking dish or on a cookie sheet. Using a cookie sheet will brown the mushrooms better. A baking dish, makes the mushrooms easier to transport, if you are taking them to a party!
Either way, they both turn out delicious! Once all the mushrooms are stuffed, sprinkle with additional Nut Crumbs and place in a 350 degrees oven for 30 minutes.
Take the stuffed mushrooms out of the oven, serve with your favorite beer...and try not to eat every single one!