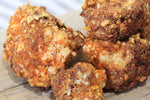 This dish right here. KILLER. Talk about putting a healthy spin on a classic! Buffalo Wings are an american staple. There is nothing quite like taking a bite into a spicy, crispy wing dipped in cold ranch dressing. The worst part of that tradition...how you feel afterwards! 
We decided to put a healthy spin on the iconic dish and the result...AMAZING!
INGREDIENTS:
Cauliflower flourets (or just chopped cauliflower)
Franks Red Hot Buffalo Sauce
In a large bowl, add the eggs, almond milk, and as much Franks Red Hot as you'd like :)
Whisk the mixture together until fully combined. Throw in the cauliflower and make sure they are drenched in the liquid gold.
Pour out the Spicy Nut Crumbs on a plate and dredge the cauliflower in the crumbs until they are fully coated.
Add your oil to a pan and heat up on med-high heat. When hot, add the cauliflower. Cook on one side for about 2 minutes then flip and cook the other side.
* Be gentle when flipping the cauliflower. Use metal tongs to flip, and once flipped just let cook. If the cauliflower is moved around the pan too much, the breading will fall off, just as normal bread crumbs would.
Once fully browned, serve up with your favorite dipping sauce and eat...without the guilt!