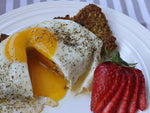 Ever wake up in the morning and crave the most decadent, yet healthy breakfast? This morning meal is fit for royalty and it's also super easy to make and jam packed with protein. Here is your shopping list...
Ingredients
Coconut Curry Nut Crumbs
Salmon
Almond Milk
Eggs
Salt & Pepper
Start with your an egg with a splash of almond milk and whisk together. 
Take your beautiful piece of salmon, without the skin, and dip in the egg mixture then dredge in the Coconut Curry Nut Crumbs.
Heat a dallup of coconut oil in a skillet and place the salmon in the hot oil. Cook about 4 minutes on each side. Transfer the salmon to a cooling rack once it's golden brown and let rest.
In a separate skillet, use your fat of choice and set the temp on medium. Once the fat is hot, gently crack an egg, seasoning as you wish. We enjoy s&p, garlic powder, with a dash of cayenne on our eggs, but to each their own! Put a lid on the skillet and let cook until the white part of the egg is no longer clear.
Plate your salmon and put the sunny side up egg on top. Cut in and watch your yolk melt all over the salmon. There is only one word for this dish...AMAZING.