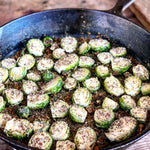 We LOVE brussel sprouts! What makes them even more delicious is when they are covered in Italian Nut Crumbs and parmesan cheese and crisped to perfection :)
This recipe was made with our Italian Nut Crumbs ~ a nut-based bread crumb alternative. They are gluten-free, paleo, Keto-friendly, vegan, and delicious! To purchase a bag click here.
This recipe is EASY! Here's what you need:
Ingredients:
2c. brussel sprouts
2T. olive oil
2T. melted butter
1/4 c. grated parmesan cheese
1/4 c. 
Italian Nut Crumbs
salt & pepper to taste (if needed)
Start by washing your sprouts, cut off the ends, and slice down the middle of the sprout long ways.
Place each half inside up (the side that you cut through should be facing up, aka rounded side down).
Drizzle each brussel with olive oil and butter. Sprinkle with parmesan cheese and top with Italian Nut Crumbs.
Bake in a preheated oven at 425 degrees for about 25 minutes or until crispy brown.
p.s. these would be amazing in an air fryer as well!
Serve as a side dish or as an appetizer with some aioli to dip in and enjoy!