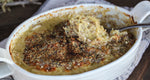 This keto-friendly version of the classic Mac N Cheese with a ranch twist + bacon is absolutely insane. It's the kind of cheesiness dreams are made of.
This recipe was made with our Ranch Nut Crumbs ~ a nut-based bread crumb alternative. They are gluten-free, paleo, Keto-friendly, vegan, and delicious! To purchase a bag click here.
Ingredients:
1/2 C. RANCH NUT CRUMBS
1 SPAGHETTI SQUASH
1/2 C. HEAVY CREAM
1 C. CHEDDAR CHEESE
1 C. MEXICAN CHEESE BLEND
4 STRIPS OF BACON (CHOPPED)
2 T. BUTTER
1 TSP. SALT
1/2 TSP. PEPPER
Method:
To start out, we need to pre-cook the spaghetti squash. You could probably use anything spiraled in this recipe, so feel free to swap out! Slice the squash long ways, de-seed, and bake (facing down on the baking sheet) for 35 min at 350 degrees. Once cooked and cooled a bit, shred with fork and set aside.
In a skillet, add bacon and butter and cook on medium heat for 5 min, or until the bacon is cooked through. Pour in the heavy cream and 3/4 of the Ranch Nut Crumbs (we're going to save the rest to top this yummy dish.) and bring to a boil, whisking constantly. Once brought to a boil, bring back down to medium heat. Add in 3/4 of the cheese and whisk until melted.
Incorporate shredded spaghetti squash and add salt and pepper to taste.
Place in a baking dish and cover with more cheese and Nut Crumbs. Bake for 20 min. in a 350 degrees oven. Serve alongside our Steakhouse BBQ Creamed Spinach and a beautiful piece of steak and enjoy!