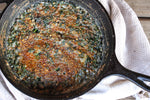 This recipe takes you right to a gourmet steak house. It's the perfect creamy, delicious side to accompany any protein, but we highly recommend pairing it with a giant rib eye :)
This recipe was made with our Barbecue Nut Crumbs ~ a nut-based bread crumb alternative. They are gluten-free, paleo, Keto-friendly, vegan, and delicious! To purchase a bag click here.
Ingredients:
1/2 C. BBQ NUT CRUMBS
2 LB. FRESH SPINACH (IF USING FROZEN, THAW AND DRAIN)
1 1/2 C. HEAVY CREAM (SUB COCONUT CREAM)
1 YELLOW ONION
4 T. UNSALTED BUTTER
3 GARLIC CLOVES
3 TSP. SALT + 1 TSP PEPPER
1 C. MOZZARELLA CHEESE
4 OZ. CREAM CHEESE
1/2 C. PARMESAN CHEESE
Method:
In a large pot of boiling water, cook the spinach for about 1 minute. We're just wanting to wilt it. Once cooked, drain, and squeeze all the excess water out of it. Chop up the spinach into small pieces and set aside.
In a large skillet (we always recommend using a cast iron!)  melt the butter and add chopped garlic and onions, cooking for 5 minutes on medium heat. Be sure not to burn the garlic!
Add in salt and pepper and 1/4 c. of the Barbecue Nut Crumbs (we're saving the rest for the topping!) Add cream and bring to a boil, then reduce to medium heat, whisking for about 2 minutes.
Throw in the mozzarella and cream cheese, stirring occasionally. Cook for 6-8 minutes or until the mixture has thickened. Add in the spinach and the Parmesan cheese and stir to combine. Sprinkle the remaining Nut Crumbs on top and stick in the oven for a few minutes to crisp up. 
Serve with a big ole steak and enjoy!