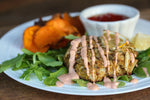 If you are looking for a yummy seafood fix you have to try this delicious crab cake recipe. Our Original Nut Crumbs make this dish gluten free and low carb...but you wouldn't know it because they taste so darn good!
This recipe was made with our Original Nut Crumbs ~ a nut-based bread crumb alternative. They are gluten-free, paleo, Keto-friendly, vegan, and delicious! To purchase a bag click here.
For the crab cakes:
1 large egg
1/4 c. mayonnaise
2 t. worcestershire sauce
2 t. Old Bay seasoning
1 T. chopped fresh parsley (or 2 t. dried)
2 t. dijon mustard
1 t. fresh lemon juice
1/8 t. salt
1 lb. lump crab meat
2/3 c. Original Nut Crumbs
2 T. melted butter
For the drizzle:
2 T.
mayonnaise
1 T.
hot sauce
(sriracha or Tapatio are perfect!)
Let's start with the crab meat. We'll be the first to admit...crab meat is intimidating! We always love to source the best local ingredients and let the experts do what they do best. We chatted with the curators at our local fish market, Catalina Offshore Products, in San Diego, told them the recipe we were making and asked them to recommend the best crab meat for the dish. If you live in San Diego, check them out! If you don't...ask your local market for recommendations when in doubt :)
Okay...now for the crab cakes...

Whisk together the egg, mustard, parsley, mayo, worcestershire sauce, Old Bay, lemon juice, and salt together in a large bowl. Place the crab meat on top along with the Original Nut Crumbs (Lemon Pepper or Spicy would be delicious too!) Grab a spatula and very gently and carefully fold together. Don't over mix and try to keep the crab meat in lumps if you can.
Cover bowl with plastic wrap and stick in the fridge for 30 minutes.
Form about 1/2 c. portions of the crab cake mix into patties and place on baking sheet.
We drizzled ours with Pasolivo Lemon Olive Oil and added a lemon slice to each one. You can also drizzle with melted butter.
Bake at 450 degrees for 12-14 minutes.
Serve with a squeeze from a lemon wedge and the spicy mayo drizzle and enjoy!